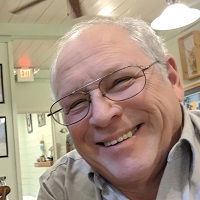 Ronnie Smith, Artisan, Owner
Master craftsman and innovator Ronnie Smith founded the Artisans' Workshop in October 2020. After retiring from a career of more than 30 years in engineering, Ronnie set up a wood shop in his basement as a creative outlet for his wood and metal working skills. Only two months later, the basement shop was bulging at its seams with the continuous addition of new equipment and a growing cache of beautiful creations. What started as a hobby had quickly become a passion.
After moving to the current shop location, Ronnie had more space to expand his creative efforts crafting beautiful handmade treasures. With a flair for unique design, Ronnie especially enjoys creating custom pieces, including small furniture.
Ronnie's work will be available at the Bleu Gallery on the Dahlonega Square beginning in January, 2022. He is also a member of Chestatee Artists and participates in arts and crafts festivals throughout the South East. Learn more >
Ronnie Smith is a Dahlonega resident and native of North Georgia. He is an avid hiker, gardener and motorcyclist with special interests in educating and mentoring young people, fostering the spirit of innovation, and contributing to a thriving community.